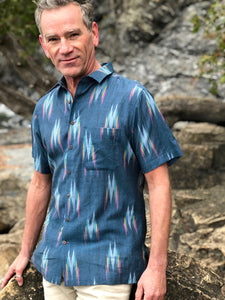 Rocket Man
Awesome colors in Rocket-like, tribal inspired print. Breathable ikat, cotton weave ideal for the warm spring and summer months ahead. 
Full of energy and style. Up and away!
Designed in the traditional ikat weaving technique. 
Ikat is an amazing fabric with a rich history that dates back thousands of years. The true origin of ikat remains a mystery, adding to its allure. Weaving ikat is a detailed process in which every thread is pre-dyed before being woven into the pattern. The result is a quality all its own.  
Rocket Man's Features:

woven i

kat

100% cotton 




machine washable

soft texture

lightweight

pre-washed

coconut shell buttons

modern slightly tailored fit (see size chart above)