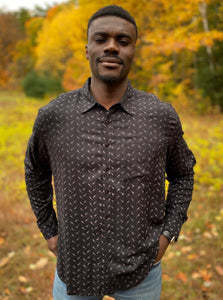 Description
A new look to the OWB line, our Flight Night shirt draws on the inspiration of a classy black shirt with our own unique interpretation.
The silky smooth rayon fabric is an awesome aspect of this style and really give the shirt a curated high quality piece.
While the black backdrop has a nice slimming effect, the subtle feather print throughout gives Flight Night a style all its own. Matching black buttons keep to the clean look.
"Take to the skies" - Flight Night